On the 9th of November, around 100 stakeholders from across the advertising industry came together to discuss and debate sustainability in digital advertising at our first Digital Advertising Sustainability Summit.
Thanks to the support of our event host Meta and event partner Ad Net Zero, we enjoyed a packed morning full of thought-provoking and inspiring content and discussions as we look to collectively drive and achieve key sustainability goals in our industry.
Check out the summary of all the key highlights below.
Opening Remarks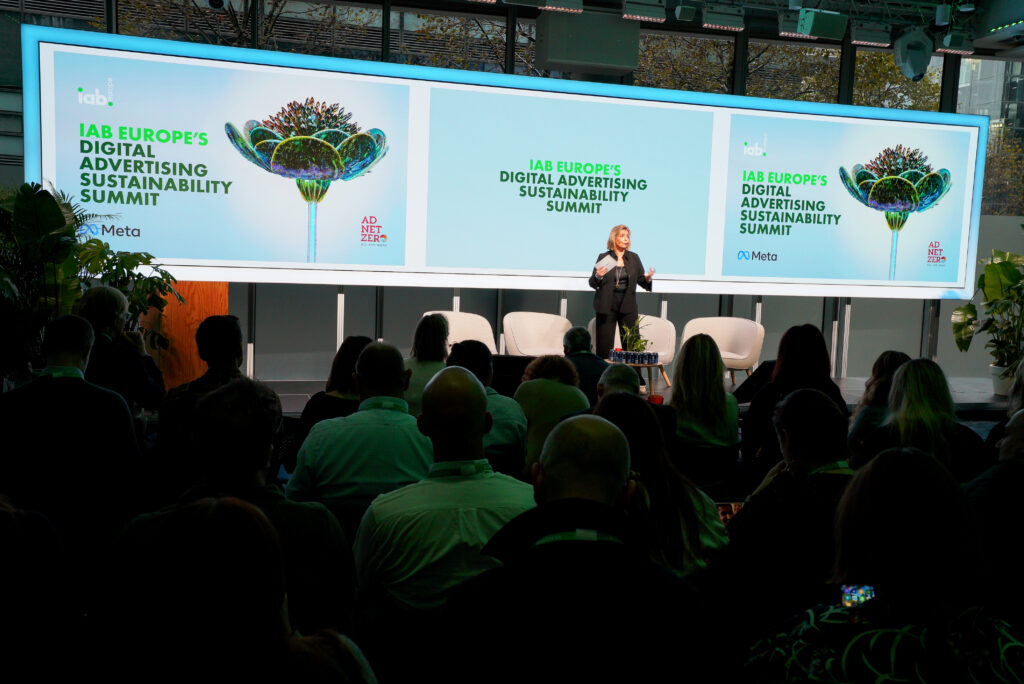 The event kicked off with Angie Gifford, Vice President, EMEA from Meta taking to the stage to outline her own personal experience as to why climate change is critical. After witnessing firsthand the severe rate at which the icecaps are melting in Greenland, she went on to say that what we are doing as an industry right now "is not enough" and that we all have our part to play in "moving the needle" to driving real change. Angie outlined the commitment Meta has made in this area, highlighting they have maintained net zero emissions for their global operations since 2020 and have an ambitious goal to reach net zero emissions for their value chain in 2030.
Our event host Christy Cooper, Global Director of Industry Relations from Meta added more insight into what needs to happen in order to shift focus and drive action. "As an industry, we are all committed optimists but now is the time for us to take more decisive action". She reiterated that Meta is keen to support client and agency partners with their goals to measure the emissions of digital advertising, and was one of the founding partners of Ad Net Zero. Christy's sentiment ran through the event, reminding us all that we cannot just talk to the converted, we have to reach those still not taking action with their sustainability plans.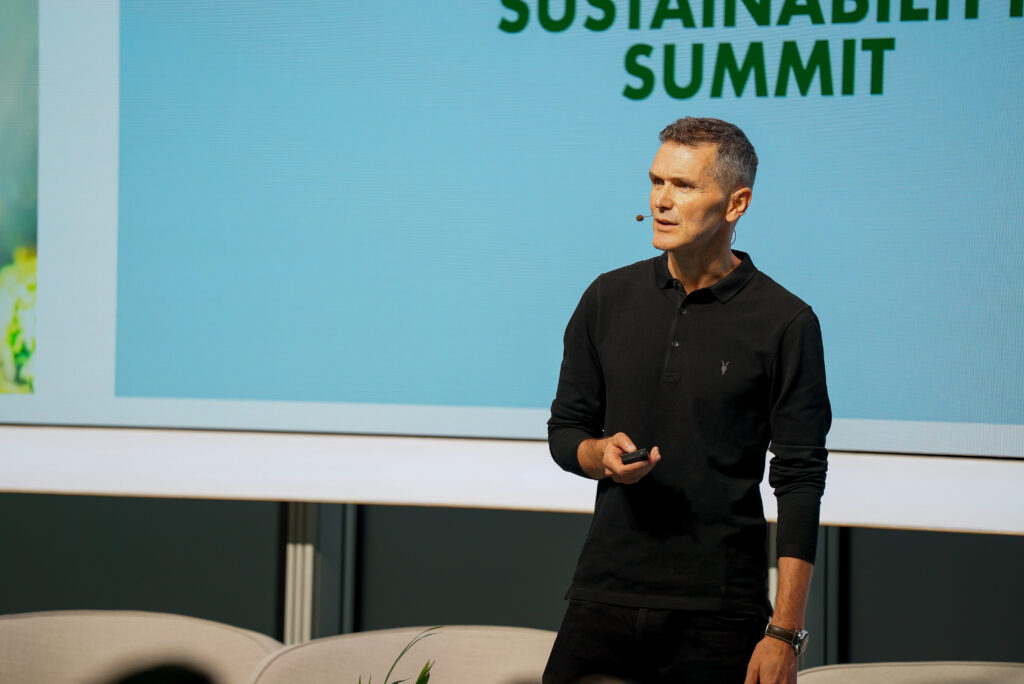 Anthony Falco, Global Director at Ad Net Zero then took to the stage to share the work that Ad Net Zero is doing to help the industry to decarbonise the production, distribution, and publication of advertising. He outlined the Ad Net Zero five point action plan, which provides a framework for businesses to make progress when it comes to decarbonising the ad industry and promoting sustainable consumer behaviour. This is categorised into these categories :
Getting our own houses in order
Reducing emissions from the advertising process
Using influence to change behaviour
He also discussed how they are embarking on driving an industry-wide commitment to measurement and reduction, and how they plan to scale these efforts across the Globe.
Find out more about Ad Net Zero here.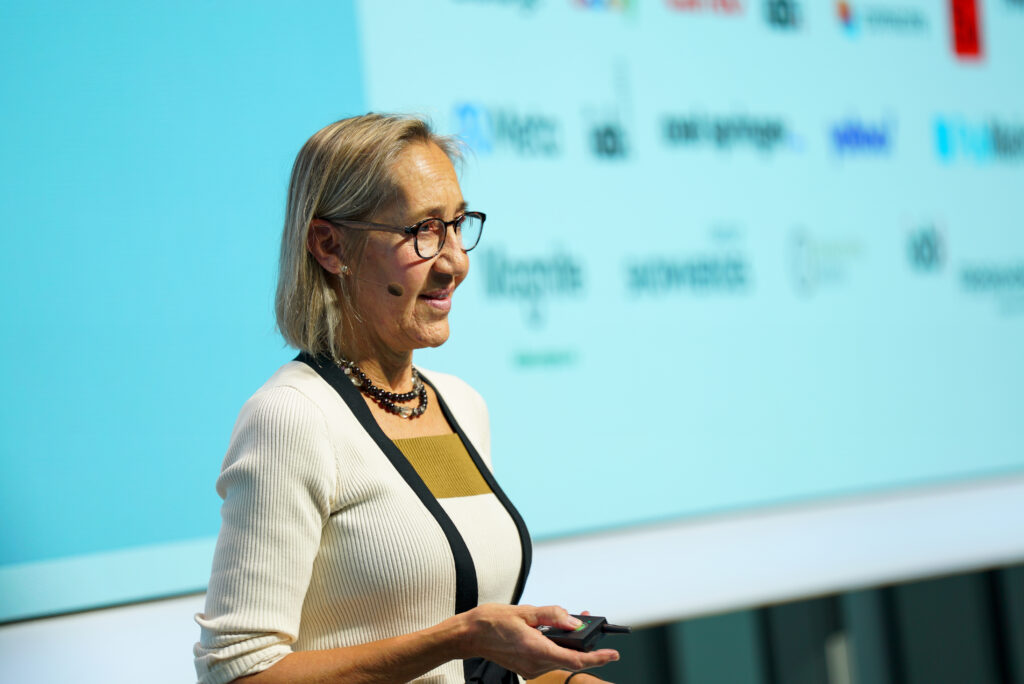 Townsend Feehan, CEO of IAB Europe then shared the work of IAB Europe's Sustainability Standards Committee, and how it is working hard to bring industry stakeholders together to share expertise and deliver vital work that helps to reduce the amount of energy consumed and emissions produced by the delivery of digital advertising. She explained that the work is split into the following key areas and how this work contributes to wider industry initiatives:
ESG Definitions & Business Guidance: Education and best practice tools for the industry
ESG Methodology & Framework: Focusing on the challenging task of environmental impact assessment
ESG Policy & Regulation: Regulatory and policy taxonomy mapping
Great Work: A Spotlight on Best Practices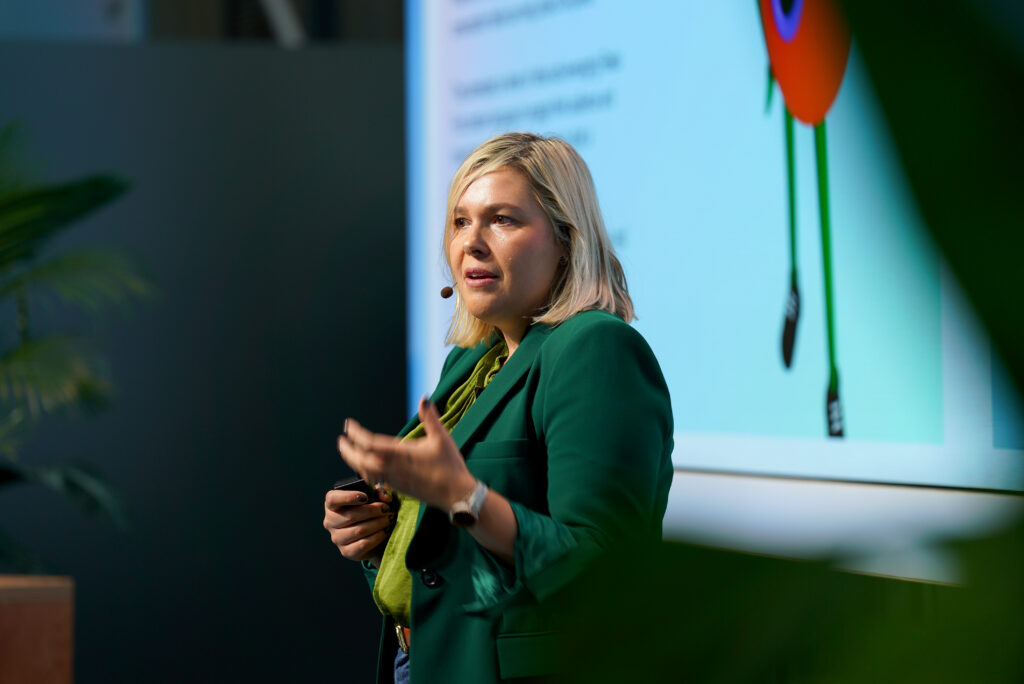 Isabelle Quevilly, Director of Creative Shop, NEMEA at Meta took to the stage, to share a fantastic example of brands driving action and change by showing the WFF campaign Meta created to reduce the amount of meat consumed. The case study showed how brands can use the power of digital advertising to speak directly to consumers, to encourage them to make small changes that can make a huge difference to our planet.
The campaign potentially had an impact of 33K tons GHG emissions reduction (with 91,600 people declaring they made little swaps, such as swapping meat for a vegetarian diet once a week).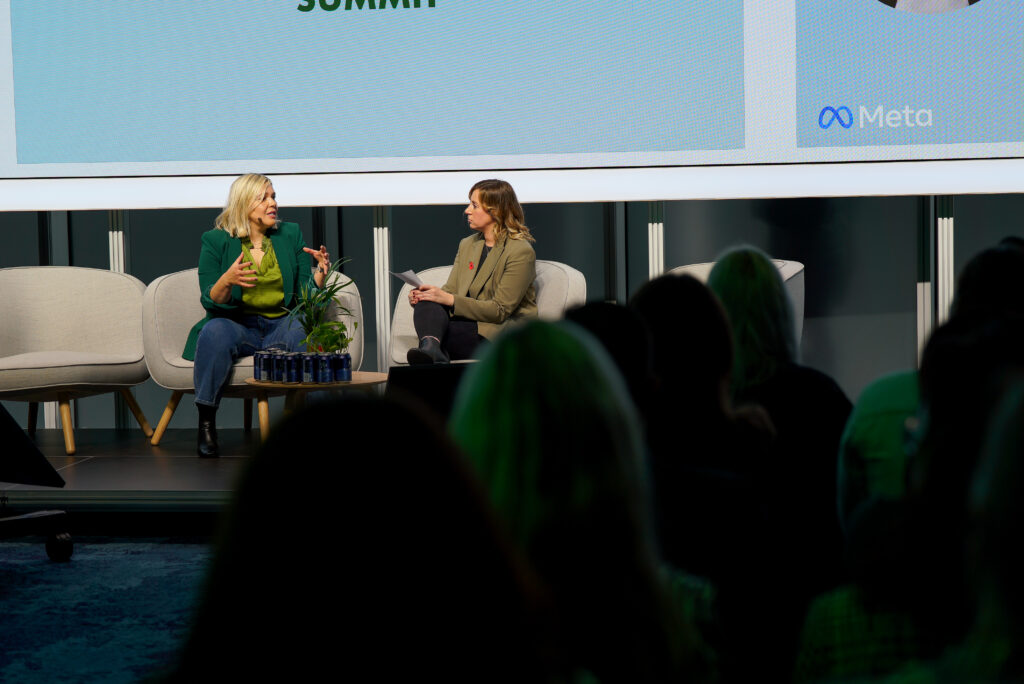 Isabelle was then joined by IAB Europe's Marketing & Communications Director, Lauren Wakefield for an insightful Q&A discussion. Key highlights included:
Don't be afraid to tap into creativity and consider how influencers can be used to create an impact on consumers.
Whilst it's important to avoid the trap of greenwashing, we shouldn't shy away from discussing environmental issues but rather embrace innovative ways of speaking to consumers.
We must be prepared to fail, so that we can learn, improve, and continue to create great, engaging work that makes a difference.
The roles of the CMO and CSO and how they work together should also be considered. Sustainability is everyone's problem and cross-team collaboration is essential to its success.
Measurement: The Carbon Emissions of Advertising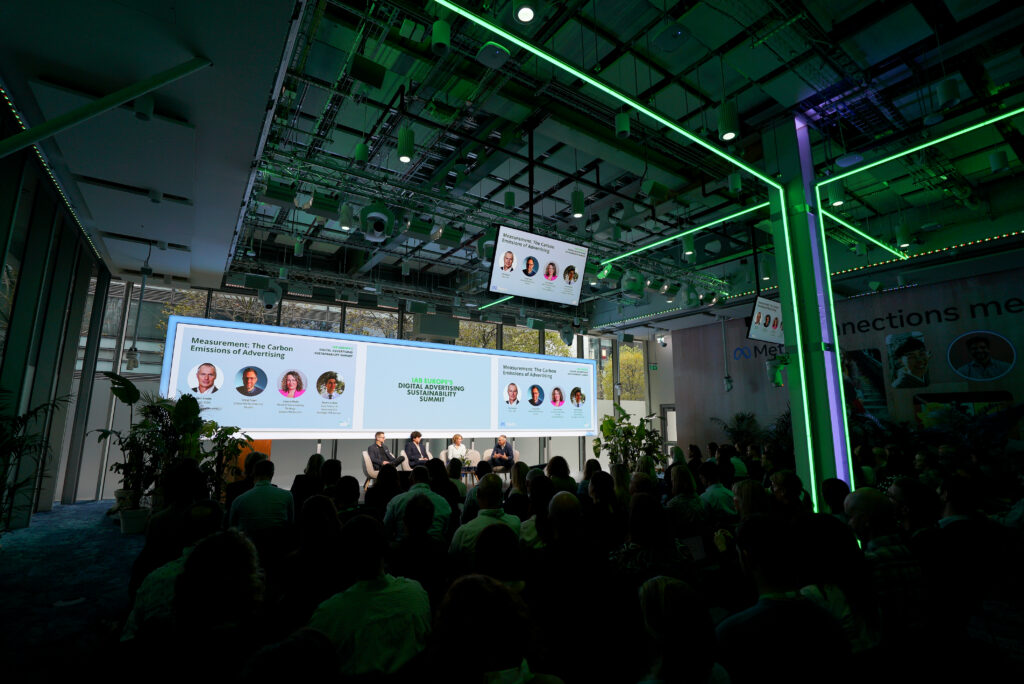 We then moved to the topic of measurement, which was one of the main action points of the event. In order to create real change and move the needle it is imperative that our industry has consistent measurement standards in place, so that we can benchmark our efforts and accurately represent the reduction of carbon emissions. At IAB Europe, we are currently working on a gap analysis of presently available options for greenhouse gas estimation throughout the digital media supply chain. Our aim here is to provide the industry with a full, clear picture of what frameworks, methodologies, and estimators are available so that more informed decisions can be made.
We invited our panel to take to the stage to discuss this in more detail.
Moderated by Phil Smith, Director General of ISBA, who was joined by Craig Fryer, Global Media Director at Reckitt, Laura Wade, Head of Sustainability Strategy at EssenceMediacom, and Dimitis Beis, Data Analyst & Sustainability Manager at IAB Europe the panel discussed how we are working across the industry to align on a global measurement framework to measure the emissions of ads.
Key takeaways from the discussion included:
As the concept of measuring carbon emissions in digital advertising is still nascent and there are many different solutions available, as well as a variety of approaches across different markets, it is difficult for the industry to navigate measurement.
As an industry, we need consistency in order to create meaningful change and to find common denominators across existing estimators, so that we can use this as a benchmark for reduction.
Due diligence is necessary but we also need more prioritisation (especially from marketers). We must face the pressure, overcome competitive values, and build trust and transparency. This needs to happen now so that we can move on and make a tangible difference. It's "about building the plane whilst flying the plane" and creating an "active hope movement".
There is consensus that the industry needs to get to the same point but there also has to be education first and to make a framework that is easy to adopt. The solution has to be the right one.
The WFA and GARM have experience in this area and are working with Ad Net Zero, with the support of other Industry Associations including IAB Europe, to develop a Global cross-channel framework to improve the environmental efficiency of media activity by enabling reductions throughout the media planning, buying and reporting process.
The industry should embrace the importance of continuous learning and not hesitate to question agencies and industry associations to help drive reduction solutions and change.
Finally, look at the number of partners in your supply chain and control the range and depth of quality to eliminate waste.
Policy: The Future of EU Regulation on Sustainability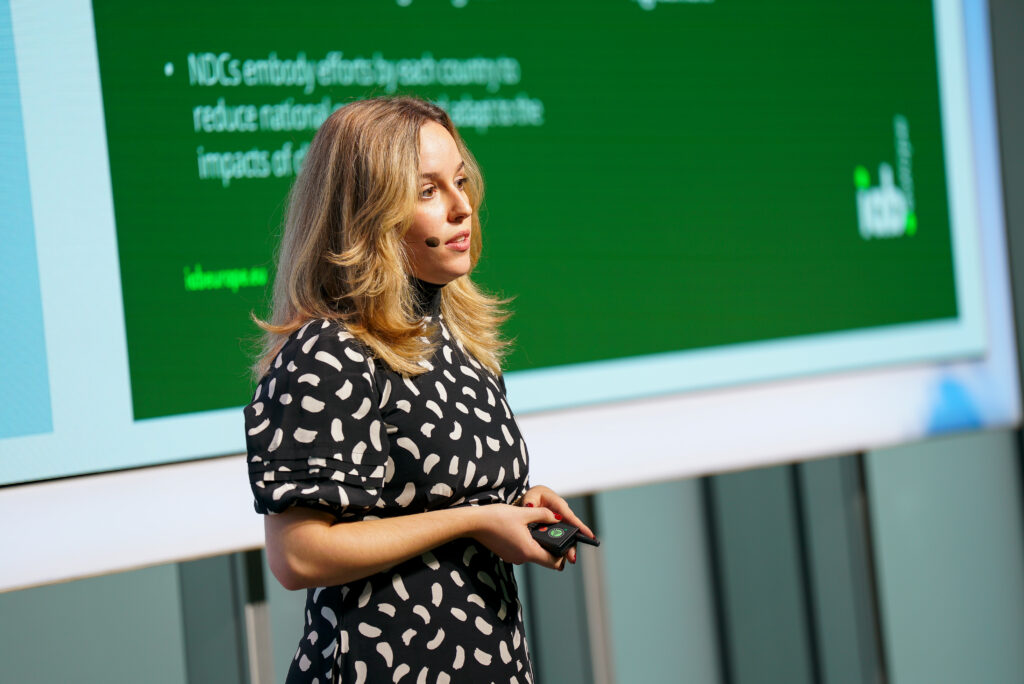 We then moved on to the topic of policy and regulation as IAB Europe's Public Policy Manager, Ines Talavera de la Esperanza discussed the current policy and regulatory sustainability landscape in the EU, including relevant passed and live legislation that we should be aware of. She also shared her predictions for the end of the year and the potential impact of the EU Parliament 2024 elections.
You can view the content shared on relevant regulations here, with the main takeaway being that she predicts that the new 2024 EU parliament will be a catalyst for more regulation that is likely to have an impact on digital advertising when it comes to sustainability.
What's Next?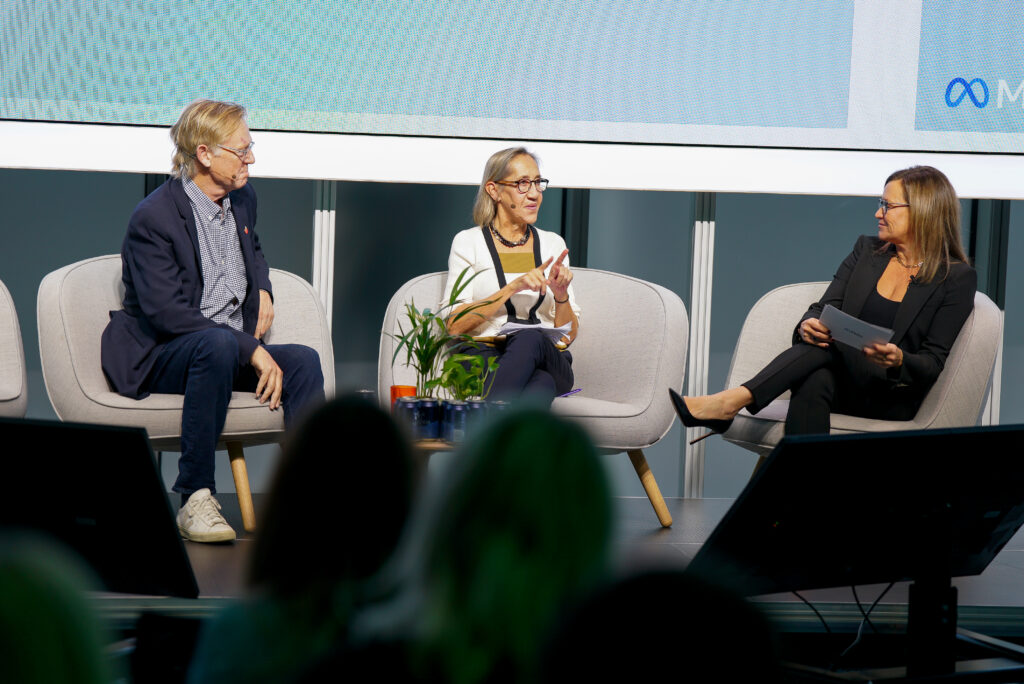 To round everything up Christy Cooper, Global Director of Industry Relations at Meta invited Townsend Feehan, CEO of IAB Europe, and Stephen Woodford, CEO of the Advertising Association to the stage to discuss their thoughts on the content covered and what we should expect next:
Here's what they had to say:
Stephen - "We are at a tipping point. In terms of the climate crisis, we are now 20 years ahead of where we should be. With this being the hottest year on record, our planet is in crisis. As an industry, we are not going fast enough, and every day that we are not making progress we are adding to the problem. 2024 has to be a tipping point and we have to do so much better."
Townsend - "How do we get more committed optimists? Is it that we need more resources and funding to do this? We need total candor from members about what we are doing as industry associations. Where are we getting in the way of solving the problem? Tell us honestly what we can do more of so we can drive positive action."
In summary, the energy and passion of our industry can get ahead of regulation, but we have to make this happen now. The main action point is to drive those not yet working on plans into action and through the work of our committee, alongside our Global allies including GARM and Ad Net Zero, we need to focus on getting measurement in place so that we can finally see the change we are making. We need facts and hard numbers, and we all need to act.
Overall, it was an amazing opportunity to be in a room full of "committed optimists". Whether it's harnessing new creative approaches, fostering action through impactful campaigns, seeking knowledge, or finding other ways to just do better, we look forward to continuing our work together and to achieving sustainability in digital advertising.